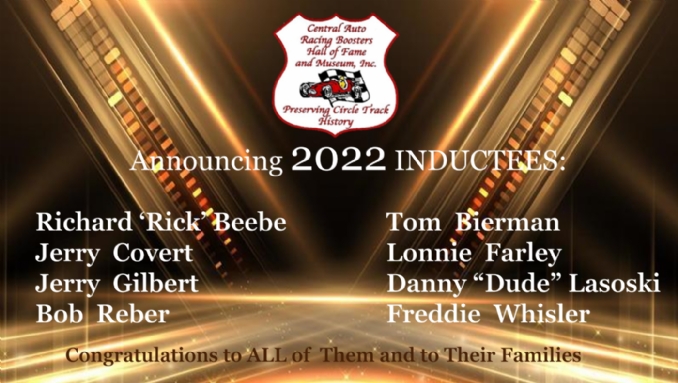 2022 C.A.R.B. Hall of Fame class revealed
1/3/2023
[2022 C.A.R.B. Hall of Fame class revealed]
By C.A.R.B. HOF (Kansas City, MO) -- Recently the CARB Hall Of Fame announced their 2022 induction class. Here's a look at this great group of racing legends.
Rick Beebe: The Heating and Cooling Man Rick Beebe of Shawnee Kansas was a stalwart racing with the Indiana based ASA (American Speed Association) in the 1990's and into the new millennium. Among the Heartland racer's accomplishments with ASA during that time were 21 Top 5's, 58 top 10's, and a victory in 105 starts from 1998-2004. While also racing in the NASCAR Truck Series at both I-70 Speedway, and Kansas Speedway.
Tom Bierman: Biermans racing career started in drag racing in the 1950's with his cars being known as "Tough Hombre". After quitting the straight line racers he would team up with local stock car star Dave Wall working on his pit crew. Wall in turn would build a car later for Bierman to race.The KC area racer realized driving wasn't for him over time and in a partnership with Larry Carlson would hire drivers to race for them that included Fred Whisler, Don Connors, Joe Wallace, Terry Bivens, and Tom Karrick.
Jerry Covert: Jerry Covert came from a racing family out of Topeka that would include over the years his brother Vernie. Covert was a stalwart out of the States Capital for many seasons racing from the late 1960's into the new millennium. And with clubs that included the original IMCA in stock car racing as well as later ASA. And at local tracks in the greater KC area winning the stock car championship at Heartland Park in 2002.
Lonnie Farley: Lonnie Farley started his racing career in 1964 at Savannah Speedway in Northwest Missour driving a 1936 Ford Coupe. In the late 1960's, 70's and early 80's Farley would race at Savannah, Grundy County, (Trenton) Missouri, and Klines 65 Speedway in Chillicothe, Mo. Lonnie won many championships in his early years. His first title came in the Caw Brothers 87Jr. B Mod in 1968. While winning championships also in A Mods, and 6 cylinder machines over the years.
Jerry Gilbert: Jerry Gilbert owned and built the famous T-Bucket Super Modified #19. With this super modified Gilbert who was also the chief mechanic would win several races. While finishing 2nd place at the Knoxville Nationals in 1962 with Gordon Woolley behind the wheel. Woolley led most of the race until a magneto issue on the last lap cost the future IMCA National Champ the win. Gilbert had several big names drive his car as well during this time including Jud Larson, and Jay Woodside. All three would be inshrined later into the National Sprint Car Hall of Fame.
Danny "The Dude" Lasoski. Danny Lasoski was one of the all-time greats of winged sprint car racing during the last twenty plus years. Coming from a racing family that includes father George, Uncle Tom Corbin, and nephew Brian "Black Jack" Brown, "The Dude" became a household name in sprint car racing winning multiple Knoxville Nationals, the World of Outlaw Title racing for Tony Stewart, 122 victories in the series, and 112 times (all-time record) at Knoxville Raceway, and 8 track championships during a career that started in 1979 at Marshall, Missouri.
Bob Reber: Bob Reber has been involved in local racing for over 40 years. During that span Bob has worked in the concession stand at I-70, ran the scales at Lakeside Speedway, while later working on the fire and safety crew. Bob has been a official with other tracks that included Topeka Raceway, STF in Sedalia, I-35, and U.S. 36.in 1978 Bob and his wife Sharon became members of CARB Boosters, And has held positions with the club that include, Board of Directors, Blood Bank Chairman, and Membership Secretary. While winning several awards, and honors with the CARB Booster Club.
Fred Whisler: "Fast Freddie" Whisler was one of the top stock car drivers in the KC area for many years from the late 1960's to the early 1980's. A stalwart on both dirt and pavement "Fast Freddie" would win the first stock car championship at I-70 Speedway in his familiar number #75. Whisler would also compete on the IMCA late model stock car circuit during the 1970's. And would more than hold his own during the years when he competed against the likes of Dave Wall, and Terry Bivens, and outsiders who came into the area to race including Mark Martin, Rusty Wallace, Dick Trickle, and Mike Eddy.
19th Annual CARB Hall of Fame Awards Banquet: March 4th, 2023. Elks Lodge in Blue Springs, Missouri. 2059 100 NE Brizendine RD. Doors open at 3:00 p.m. with program starting at 4:00. Tickets available soon. $30 dollars per ticket